Nike is the world's leading innovator in athletic footwear, apparel, equipment and accessories.
Nike had three main problems they wanted us to help them resolve: (1) They found their teams were working independently in silos and, consequently, failing to communicate with each other. (2) As a result, too much time was lost with team members duplicating similar designs and. (3) This redundancy was costing Nike both time and money.
To address these problems we developed the Nike Design Library concept, a clean community driven interface focussed on facilitating collaboration and reducing design redundancy.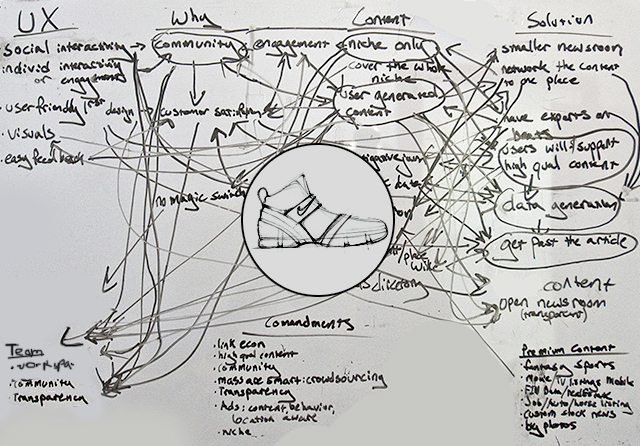 The Nike library houses a workspace which contains many facets of inspiration. It is a workspace where the teams can collaborate without any added effort or additional steps: a space where all the various teams and departments work in conjunction with each other even while working on different projects.  The library is an interactive concept board with drag and drop functionality from the web. The idea is that each person would have their own space and it would be completely open for others to "see" and collaborate. We also designed each page to contain tools whose functionality is easily understood yet also allowing for a vast array of styles to the many graphic designers working with the tablet screen.
Finally, the workspace includes working files from past designs uploaded from team members. Team members can drag and drop these directly from the browser into their application whether it be Autodesk Alias or any Adobe product.
For more information please contact us at info@ianmcfadyen.com